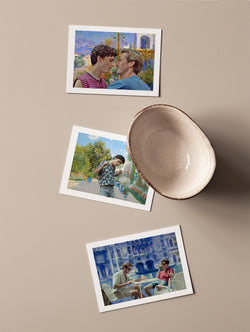 Villa Capri
Postcard Kit (n.I)
Set of 3 postcards printed on thick fine art paper with a matte finish. Call Me by Monet merges scenes from the movie "Call Me by Your Name" with paintings by French Impressionist artist Claude Monet.

Includes the following artworks:
- I'd Kiss You if I Could
- Papa! It will Look like a Put Up Job
- What Does One do Around Here?
Postcard Size: 6x4"/ 15x10cm. 
Artwork by M. Labrague.